| | |
| --- | --- |
| | |
The 8 Keys of Excellence character education program guides young people toward a positive future full of confidence, motivation, creativity, team work, leadership and valuable life principles.
The Excellence Effect Movement – On our way to changing the lives of 50 million children
The Excellence Effect is a movement to build excellence in the lives of young people worldwide through the 8 Keys of Excellence family and school character programs. Many of today's most distinguished and respected thought leaders are advocates of the 8 Keys of Excellence character-building principles. View their videos below.
See more thought leaders speak about excellence
Join us today in making a difference for youth
everywhere at no charge to families and schools.
8 Keys of Excellence Character Education Program
The 8 Keys are:
A major study by Dr. Victor Battistich, an expert in the field who devoted much of his adult life to the study of character education, found only two factors showed a significant direct link to improving good character and effectively preventing bad behavior: positive relationships with one's family and a sense of connectedness to school. 8 Keys of Excellence address both areas with its school character education program and family character development program.
"As students grow in character, they grow in their capacity and commitment to do their best work, do the right thing and lead lives of purpose. Character education done early and well, puts students toward successful life outcomes."

– Dr. Victor Battistich
For nearly 30 years in SuperCamp learning and life skills programs and Quantum Learning school training, the 8 Keys of Excellence have helped young people embody valuable life principles that lead to positive habitual behavior, added confidence and increased motivation.
8 Keys of Excellence School Program
The 8 Keys of Excellence school character education program can provide K-12 teachers with a full year of character education lesson plans, online resources, training and support. Already over five million students have been positively influenced by the 8 Keys.
"The 8 Keys of Excellence have had a very positive impact on morale, behavior and character education efforts at the elementary schools. Many teachers and parents continue to let me know how the language of the Keys is evident, not only throughout the school, but throughout the community as well."

– Dan St. Romain, Alamo Heights Independent School District, San Antonio, Texas.
Building character in students through the 8 Keys of Excellence helps young people realize their greatness and enables schools to achieve better results.
For a free introductory lesson and tips on implementing this program, register your school or district in the 8 Keys character education program now, please complete the online registration form.
Learn more about our school character program or contact us by email or at 760-305-7317.
8 Keys of Excellence Family Program
The 8 Keys of Excellence family character development program gives parents a simple and engaging eight-week action plan for establishing core character principles in their kids, strengthening family relationships and deepening the feeling of belonging, safety and connectedness.
When you register for this free program, you gain login access to the family area of this website, which contains a wealth of 8 Keys resources, videos, a MyFamily page where you can keep notes throughout the program and a discussion board to interact with other families.
Each week for eight weeks, your family will review the Key-of-the-week's web page. Each Key's page leads your family through a 20-30 minute conversation and activity designed to give meaning and insights into that Key.
What's more important than your kids' future? Register for the 8 Keys of Excellence family program now! Want more information? Learn more about the eight-week program and the benefits to your family.

The 8 Keys of Excellence were developed at SuperCamp, a learning and life skills program in the U.S. and worldwide that inspires students to build a solid core of excellence resulting in self-motivated learners. SuperCamp.com
The 8 Keys of Excellence have also been adopted by thousands of schools, leading to positive and supportive cultures.
QuantumLearning.com
Join the Movement – Choose Excellence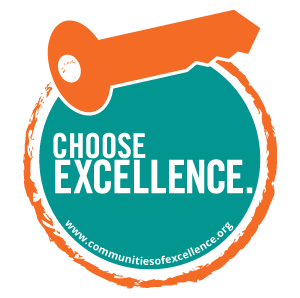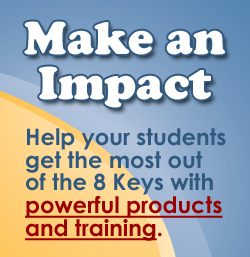 Make the biggest impact for your students with these valuable 8 Keys products and training programs:
8 Keys Half-day or Full-day Live Teacher Training
Quantum Learning for Teachers Live Training
Quantum Learning for Students Live Programs
Quantum Learning for Administrators Live Programs
Learn more about our training programs at www.QuantumLearning.com and at www.QLUniverse.com.
Watch our 8 Keys music video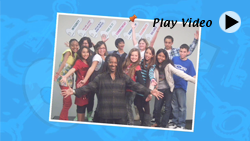 Play our 4-minute video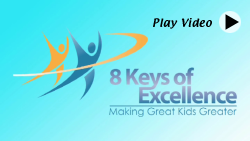 Watch the full 8-minute version
Register for the Family Program
Sign up for our 8-week family character education program. It's free! Register now >>
Sign up your School or Class
Register your school or class for more information on our 8 Keys school program.
Register now >>
Donate
Your donation will help us reach 50 million young people through our school and family programs.
Donate now >>
Partner with Us
Partner with 8 Keys of Excellence in a corporate sponsorship role.
Learn more >>
Contact Us
We'd love to hear from you!
Please contact us today.
8 Keys of Excellence
Learning Forum International
Oceanside, CA 92054
Phone: 760-305-7317
[email protected]