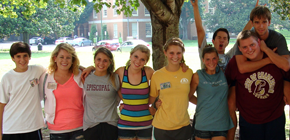 About Us
8 Keys of Excellence is a character education program of Learning Forum International, a 501(c)(3) non-profit educational corporation based in Oceanside, California.
Learning Forum International secures funding from individuals, foundations and corporations to implement learning, life skills and character building programs in schools in support of 8 Keys of Excellence, and to fund individual student scholarships to SuperCamp® academic summer camps.
Through Learning Forum International, educators, parents, alumni and other supporters of youth and personal achievement come together to make a difference for students, families and organizations. This is done by empowering them with the tools for greater character, self-esteem, motivation, and academic and personal achievement.
Learning Forum International Board of Directors
Bobbi DePorter, President Bobbi DePorter is the Founder and President of Learning Forum International. Bobbi developed the 8 Keys of Excellence over 25 years ago for use at SuperCamp. She is the author of The 8 Keys of Excellence – Principles to Live By. Read Bobbi's full bio
Joe Chapon, Vice President Joe Chapon has been on the Learning Forum International Board of Directors since 1989. He is Vice President of Quantum Learning Network and is involved with strategic planning and financial management activities of SuperCamp. He has spent a large portion of his career designing and managing training, development and personnel management programs for corporations and organizations based both domestically and abroad. His past experience included: program director of training and planning for Gulf and Western's Indonesia operation; President of Indonesian American Housing Projects, a real estate development company; Project Manager for Personnel, Parsons Saudi Arabia; training officer for the Peace Corps in the South Pacific Region. Joe is married to Bobbi DePorter and is a graduate of Kent State University.
Steve Curtis Stephen Curtis is a partner of Insight Consulting Partners. He is the past managing partner of Curtis Marketing Group that served over 200 private and public companies during a twenty-year period. Steve has over 35 years experience in business planning and all phases of marketing. He has been Vice President of Marketing for three growth companies that merged with both private and public companies. Steve holds a Bachelor of Science in Marketing and a Master of Business Administration from the University of Southern California. He has taught Executive and Graduate Business Classes at Stanford University, University of Southern California and the University of California (Los Angeles and Irvine).
Denise "Dee Dee" DeMan Denise DeMan is the Founder, Chairman and Chief Executive Officer of Bench International, one of the most successful specialized retained executive search firms in the world. She has spent more than a quarter of a century developing and promoting a network of women leaders in the biotechnology and pharmaceutical sectors. To that end, she is a member and Hall of Fame Inductee of the National Association of Women Business Owners, as well as Membership Director for the West Coast Chapter of the Healthcare Businesswomen's Association. DeeDee holds both bachelors and masters degrees in auditory pathology and is a highly sought-after speaker and contributing writer for the industry.
Steven Snyder Steven Snyder is an internationally recognized speaker, perhaps best known for the development of AlphaLearning – the product of over thirty-five years of research into accelerated reading and learning techniques, concentration and attention skills hypnosis, meditation, visualization, brilliance, passion, and the nature of mastery. Steve first learned to read at the age of two, and by the time he began school, he had read over 1,400 books. At the age of 51, he now reads 20-30+ books per week. Steve's life mission is to help improve our system of education.
Tom Holmquist Tom Holmquist has over 30 years of experience as a Finance Director for Fortune 500 companies and as a Certified Public Accountant with Price Waterhouse. Tom is currently the Vice President Finance of the AVC Group in Carlsbad. Tom graduated from Loyola Marymount University. He has been a consultant for Learning Forum on an extensive basis since September, 1996.
8 Keys of Excellence
Read the definitions and descriptions of all 8 Keys.
Learning Forum International
Visit the Learning Forum International website to learn more about our 501(c)(3) non-profit educational corporation.
Academic Summer Camp
SuperCamp is the learning and life skills summer enrichment program for middle and high school students that Bobbi DePorter co-founded in 1982.
Quantum Learning
Learn about Quantum Learning school programs for students, teachers, administrators and parents, a part of Quantum Learning Network.
Become an 8 Keys of Excellence Advocate
Stay informed on news about 8 Keys of Excellence and the Excellence Effect movement.
Sign up for email announcements >>
Contact Us
We would love to hear from you! Please call, email, fax, or write us today.
8 Keys of Excellence
c/o Learning Forum International
Oceanside, CA 92054
Phone: 760-305-7317
[email protected]