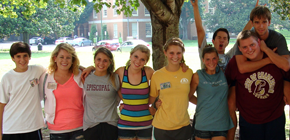 Register for the 8 Keys of Excellence Family Program
A major study found that the relationship with one's family is one of only two direct links to improved character, behavior, and feelings of connectedness. The 8 Keys of Excellence Family program deepens family relationships, opens lines of communication, and provides young people with eight proven life principles.
Register now and bring the 8 Keys of Excellence into your family.
Please complete the registration information below to gain access to the 8 Keys of Excellence family program portal. Your email address will be your User ID for logging in. When you submit your registration, you will be taken to the family program main page, which contains an overview of the 8-week program and links to several 8 Keys resources.
You can use your User ID and password to access the family program portal at any time. Please note that there is one User ID/password per family. You should receive an email confirmation after you submit your information.
Please be sure to add 8keys.org to your allowed list, so our emails don't end up in your Junk folder.