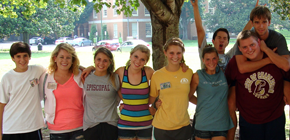 The Excellence Effect Movement
Young people have a primal drive to fit in. When they don't have an internal core of positive guiding principles, this drive can take them in wrong directions, create complacency and stifle ambition.
Bad behavior is evident these days in everything from the use of drugs and alcohol, to increased incidents of bullying, sexting and lying. A growing number of kids are fearful of their future. Too many young people take their social cues from outrageous behavior seen on reality television shows or online videos and not from positive role models in the home, at school or elsewhere.
Our youth need to find their personal character compass. The best sources to guide them in creating this compass are their family and school. In fact, Dr. Victor Battistich's study surrounding character and youth, positive relationships with one's family and a sense of connectedness to school were identified as the only two factors that showed a significant direct link to improving good character and effectively preventing bad behavior.
Reversing the Excellence Deficit
Our mission is to reverse this "excellence deficit." Already, more then twenty million young people have been positively influenced by the 8 Keys of Excellence. With the Excellence Effect Movement we want to harness the power of schools, families, thought leaders and character advocates to reach 50 million kids and create a critical mass of young people who embody and exhibit the 8 Keys Life Principles.
8 Keys of Excellence Family Program
You can help guide your kids toward a positive future full of confidence, motivation, creativity, team work, leadership and good character by registering for the free 8 Keys of Excellence Family Program now. If you wish to learn more, go to the family program overview page.
8 Keys of Excellence School Program
Our yearlong 8 Keys of Excellence character education program gives teachers a roadmap for integrating character education into their existing curriculum. Learn more about our school character development program or sign up your school or classroom.
8 Keys of Excellence
Read the definitions and descriptions of all 8 Keys.
Learning Forum International
Visit the Learning Forum International website to learn more about our 501(c)(3) non-profit educational corporation.
Academic Summer Camp
SuperCamp is the learning and life skills summer enrichment program for middle and high school students that Bobbi DePorter co-founded in 1982.
Quantum Learning
Learn about Quantum Learning school programs for students, teachers, administrators and parents, a part of Quantum Learning Network.
Become an 8 Keys of Excellence Advocate
Stay informed on news about 8 Keys of Excellence and the Excellence Effect movement.
Sign up for email announcements >>
Contact Us
We would love to hear from you! Please call, email, fax, or write us today.
8 Keys of Excellence
c/o Learning Forum International
Oceanside, CA 92054
Phone: 760-305-7317
[email protected]